SEO Services
Improve your organic results on Google with quality SEO Services.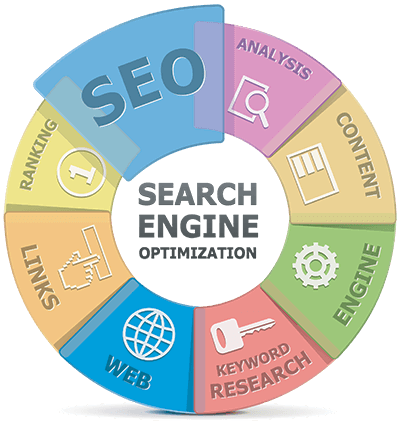 SEO Services with transparency
Understand each step of what we do together with you, from planning to implementing.
On-Page SEO
Optimising our pages from within. SEO Analysis
The very first step will be to fully analyse our website; page by page and to conclude with what should be improved, implemented and deleted in order for us to rank better. Keyword Research
We will continue with in-depth keyword research for all possible ways in which we can add visibility to our site and strengthen the pages that we care the most. Content Optimisation
Once we select our keywords, it is time for optimisation. We will build an SEO strategy and go step by step with each article and each page to improve visibility.
Off-Page SEO
Optimising our pages from external sources. Email Marketing
Using our own collected database of potential customers, we will remind them of different offers, openings or anything that can get their attention. Social Media
We will establish our social medial presence in order to influence traffic to our website from there, updating posts and engaging with followers. Backlink Strategy
We will engage and link up with websites across the web that could be relevant to our business and that already have a strong presence.
How much do SEO Services cost?
Between $3,000 to $15,000/month for a mid-range website in the U.S; Between SEK 12,000 all the way to SEK 100,000 per month, on average in Sweden; between €1,500 and €10,000 per month in Europe, and between £1,500 and £10,000 in the UK, if we speak in the range of effectiveness.
It is important to mention that in SEO services, there is no minimum nor a maximum budget one should invest, and it depends on the size of the project, the agency, or the individual's personal rate.
The more you invest in SEO services the more dedication from the agent or agency you should receive, and the more effective your service should be.
When hiring me as your SEO consultant, I will make two promises you'll get from me:
A very competitive cost in relation to the quality and dedication in comparison to any other agency.
Seriousness and transparency on every action always.
Why should you hire me?
SEO is not rocket science! It requires organisation, dedication and hard work (of course in accordance with Google regulations and rules).
Here are the three main reasons why you should hire me over another agency:
1) Paying an agency big money or paying a freelancer a smaller budget could work in the same way as long as the SEO agent dealing with your business works and dedicates his/her time to the improvement of your website in the way you deserve.
As an independent consultant, I don't have to cover office expenses or expensive salaries to employees, and that literally means that I will use your SEO budget 100% for the improvement of your website/s and nothing else.
2) There's a lot of shady business out there and a great number of agencies when dealing with your SEO will let you pay an x amount every month in which they will use for their expenses, salaries, offices and their pockets as well, leaving a small or no budget to use for backlinking investment or other necessary expenses to improve your website!
At the end of the day, when paying someone to do your SEO work, you are in most scenarios, left in the dark, not knowing exactly where your money goes or what it is used for.
I try to make a difference here as I clearly show you the fee I take for the hours of work I put in, and aside from that, together, we will discuss a separate budget that we will use 100%! for your website and not for any other purpose whatsoever.
3) I am an accredited and certified SEO consultant from John Bryce Technological College with a BA in marketing and I'm committed to working in a transparent and effective way for you and your business.
My Rate Explained
My objectives is to minimise your expenses while maximising your results and a good return on investment.
My rate for SEO services starts with a minimum monthly budget. I consider that a minimum agreed budget is required to establish a good working structure, bring effectiveness and satisfactory results within a reasonable period.
A monthly fee includes the setup fee which includes initial reporting of your website in full and thorough keyword research.
To this budget, you'll also have to allocate an extra budget for content writing, the use of a programmer (if needed), and investing in link-building. This budget is set and allocated aside and if not used on a specific month, then it will be not spent or lost.
*You may also simply hire an individual SEO report of your main domain or an independent extensive SEO analysis of your website with a personal consultation with me without any further commitment by clicking here
I encourage you to contact me to discuss a good strategy for your business without any obligation and totally free of charge.