Live Online SEO Bootcamp of 40h | Once per Week | 4h/Day | Build your website & optimize it to the core or improve the SEO of your current Site while you learn.
* The price is in SEK (Swedish Krona), and it includes VAT
BUY ONCE, JOIN UNLIMITED TIMES
Unique and exclusive offer; limited to all first students – You may join the same course forever – Re-take, refresh your knowledge and get updated with every upcoming course with just one fee*
*This applies to identical courses and it's for the person who purchased the course alone.
4hs/day for 10 Weeks (once/week) - Every Sunday from 9:00 to 13:00  Swedish Time.
*Hours may differ slightly from time to time; however, the course curriculum will always be completed.
Some of the topics to be learned and discussed:
Introduction to Digital Marketing: Differences between organic search and paid advertising
Dive deep into technical SEO and On-Page SEO.
Learn how to properly do Keyword Research and implement recommendations
Learn how to scan, analyze, and execute a profound SEO Audit of any website.
Learn how to do frequent reporting to show your clients or your bosses how things are going and what should be improved.
...And much, much more but most importantly, learn how to build, create, and manage a website with WordPress and how to optimize and audit any type of website on any platform; how to improve results and performance, and always with the best and up to date practices according to Google and other leading search engine standards.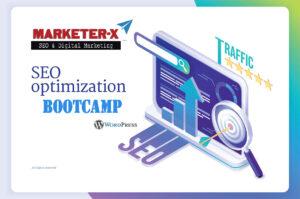 SEO Bootcamp/Digital Marketing course of 40 hours; 10 days of training, learning, and building your website while optimizing it to the core for search engines and users alike.
*Note that hours may differ from time to time, however, the course curriculum will always be given in full.
This course is focused on WordPress; however, it is perfectly suitable for any type of website optimization. If you have a website on Wix, Squarespace, Shopify or any other builder platform, the course will guide you and help you optimize it too.
Gain truly valuable knowledge and experience with hands-on real practice.
EXTRAS:
Get involved with affiliate marketing and start earning.
Get a Free Chatbot Marketing Tool Training.
Unlimited access and mentoring (within the same course curriculum)
Read the entire syllabus here and join our online SEO Bootcamp for an outstanding learning experience with a unique approach.